1. Hide the thermostat control 
One of the best ways to hide the thermostat is by hanging a canvas/painting right over. Easy!
2. Use a shoe organizer in the pantry 
Take a shoe organizer and hang it in your pantry to sort snacks and other items. This will also free up some shelf space. You can use the same trick to empty water bottles.
3. No more Swiffer duster pads!
Swap these duster pads for a pair of fuzzy sock—wash them and they become reusable each time!
4.  Hang the ironing board on a coat hanger 
Take two coat hangers and place them 6 inches apart. Hang your ironing board on it and free up that space.
5. Make a detergent bottle 
I'm one of those people who buys detergent in bulk. So instead of storing those big boxes, it's so much easier to empty it into a nice bottle.
6. Mail organizers to store slippers 
7. Keep paint in jars
If you're painting the house, you're bound to have some left over paint. Instead of storing it in giant buckets, empty it into a baby jar.
8. Add a storage rod in your shower 
9. Aluminum foil for dryer sheets
Ball up some aluminum foil and use it instead of dryer sheets.
10. Foam pool noodles for door stops 
If you park in the garage, you know it can get hard to open your car door without having to nudge the wall. So, take a foam noodle and drill it into the wall, as a door stop, to prevent any accidents.
11. Tissue box as a plastic bag holder 
12. Squeegee the pet's hair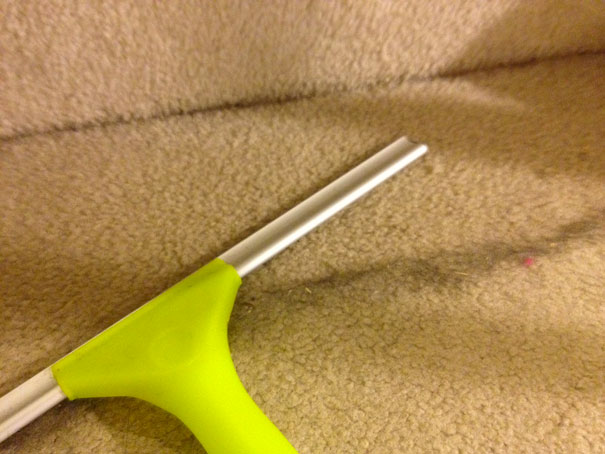 A squeegee will remove the hair form carpet and upholstery.
Did you find this hacks neat? If so, then don't forget to like the post and share these tips with family and friends!
Article source: Shareably