A man named Wagner de Lima of Brazil passed away tragically after losing control of his motorbike. His death brought about sadness and tears among all of his friends and family – as well as his horse, Sereno. It was said that de Lima and Sereno had a very close bond – one so strong that it caused this adorable horse to cry quietly beside de Lima's casket.
Credit: Metro
In an interview with de Lima's brother he said, "This horse was everything to Wagner, it was as if the horse knew what was happening and wanted to say goodbye. All the way to the cemetery he was whimpering and stomping on the ground," while a close friend added, "It was an unbelievable thing to see the way the horse behaved. If I hadn't been there I wouldn't have believed it myself."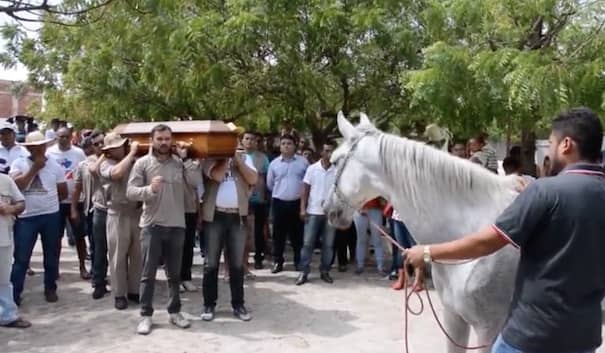 Credit: Rumble
They continued to say, "As we brought the coffin out at the beginning of the funeral, (Sereno) sounded like he was crying and as if he recognised that his owner was finally leaving him. He pounded the ground with his hooves and kept on whinnying. It was very sad."
Now, Sereno will live with de Lima's brother, despite many in the community offering to buy him. He said, "Wagner will stay with our family forever." In this way, the saddened friends and family can remember De Lima fondly with the sight of his beautiful horse, Sereno.
If this video has tugged on your heart strings, be sure to share it with your family and friends.
This video cannot be viewed on our website because you have not given us consent to use the required cookie(s).
If you would like to review your consent option, click here
You can still watch this video by following the link below, which will take you to an external website.