4. Rainforest World Music Festival – Kuching, Borneo

2.bp.blogspot.com

1.bp.blogspot.com
A crowd of 30,000 revellers in a tropical rainforest? You better believe it. This amazing music festival attracts people from all around the world.
5. International Sand Sculpture Festival – Portugal

upload.wikimedia.org
upload.wikimedia.org
Covering over 15,000 square feet of beach, this is the largest sand sculpture event in the world. These aren't your childhood sand castles. 35,000 tons of sand are used to create 50 granular masterpieces.
6. Electric Forest Music Festival – Rothbury, Michigan

freshwetpaint.com
i.imgur.com
This four-day music festival fuses electronic music from some of the world's biggest DJs with the wilderness to create an unforgettable experience.
7. White Nights Festival – Saint Petersburg, Russia
chieusanghoanggia.com.vn
escapenormal.com
This international arts festival had its humble beginnings as a celebration of the end of the school year. It takes place during the arctic season when the sun can still be seen at midnight. Ships with beautiful red sails, entertainers, fireworks, and more are watched by an audience of millions.
8. Day of the Dead – Mexico

travelhouseuk.co.uk
onthegotours.com
Dia De Los Muertos is a Mexican holiday, celebrating family and friends who have passed away. With its roots planted hundreds of years ago as an Aztec festival, the celebration has its participants dressed up in stunning costumes.
9. Elephant Festival – Jaipur, India

gadgetace.co.uk
m8.i.pbase.com
Revered in Indian culture, elephants have their own special celebration day. The elephants are dressed in colourful costumes and jewelry, and take part in events such as tug-of-war, polo, and races.
10. Sapporo Snow Festival – Japan

cdn.theatlantic.com
seejapan.co.uk
In 1950, a group of high school students built six snow statues in Odori Park. Five years later, the army forces joined in on the fun and things have snowballed (sorry, I couldn't help it…) ever since! This festival takes place every February for seven days. Millions of people come to visit the enormous and magnificent snow sculptures.
11. Inti Raymi (Festival of the Sun) – Peru

static.panoramio.com
splnh.com
The Festival of the Sun was one of the most important events during the days of the Inca Empire, as it pays respects to Inti, the sun god. In honour of the Inca people, Peru reenacts the procession every June.
12. Garma Festival – Australia

showticksecure.com
hotelmanagement.com.au
This festival by the Yolngu, natives of Australia, encourages the preservation of their arts and ceremonies.
13. Lantern Festivals – Asia

imgur.com
blogspot.com
The Lantern Festival is celebrated on the fifteenth day of the first month in the lunar calendar, marking the end of the Chinese New Year festival. The lanterns are embellished with intricate designs and at the end of the night, they are released into the night sky to symbolize letting go one's past self.
14. Burning Man – Nevada, USA

cdn.cultofmac.com
travelhymns.com
The annual event in the desert is described as an experiment in community, art, radical self-expression and radical self-reliance. Its name comes from the ritual at the end of the event in which a large wooden effigy is burned.
15. Albuquerque International Balloon Festival – USA

thetravelerscollection.com
photokatha.in
9 days of festivities with more than 750 hot air balloons! It all started in 1972 with 12 hot air balloons celebrating the birthday of 770 KOB Radio, and things have really taken off since then!
16. La Tomatina – Buñol, Spain

inapcache.boston.com
photorecipestepbystep.com
The history of this messy festival is not entirely clear but the story goes that locals were throwing throwing vegetables at pesky woodland creatures and missed, hitting each other instead. Now, every August, over 20,000 people from around the world come together to use more than 150,000 tomatoes as their weapon of choice.
17. Up Helly Aa Fire Festival – Shetland, Scotland

cdn.theatlantic.com
inapcache.boston.com
This fire festival marks the end of the yule season. Costumed participants march through the streets carrying torches that are thrown into a replica Viking longship.
18. Carnevale – Venice, Italy
02varvara.files.wordpress.com
wikimedia.org
The Republic of Venice fended off an invasion in 1162, resulting in a celebration in San Marco Square. Now, Carnevale marks the start of Lent.
19. Winter Light Festival – Kuwana City, Japan

farm6.staticflickr.com
cache.tokyotimes.com
The Nabana No Sato botanical garden is fitted with over 7 million LED lights to put on a mesmerizing spectacle to celebrate winter. To minimize the environmental impact, the batteries are charged during the day using solar panels.
20. Tomorrowland – Belgium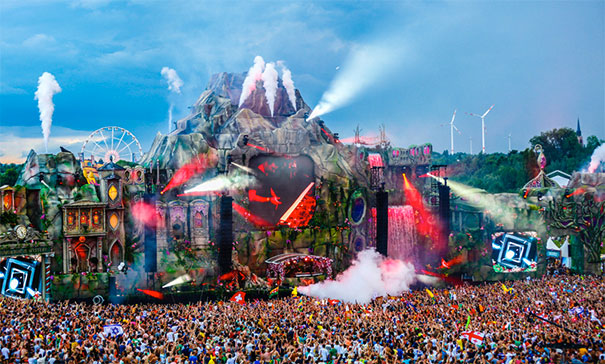 Phixion.be

EnterZagreb.hr
This massive electronic music festival hosts some of the biggest DJs in the world and attracts an international audience, sprawling over 185 acres . The jaw-dropping production will surely leave a permanent impression on you.
Source: Distractify
I don't know about you, but I have a serious achin' to do some travelling. In the mean time, I'll just turn my iPod way up, flash a bunch of lights and imagine myself into the most happenin' party ever.